Men & Women
Men
Taekwondo is an extremely good way to keep fit. We have a professional way of teaching, which is methodical and efficient.
Physical fitness is essential for healthy living. It helps the body to stay slim, it improves the power of the heart and circulation and could help to prevent diseases.
Other advantages that taekwondo provides…
It helps you build stamina and strength
It reduces sluggishness
Self defence
Increase of drive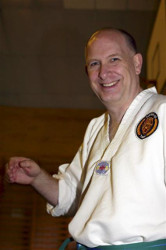 ---
Women
Taekwondo Tigers have taken measures to make ladies feel welcome. In some areas we have started ladies only classes, traditionally all martial arts are seen as a male sport, but with the present social climate more ladies are taking part. This gives ladies the opportunity to combine physical fitness with self defence.
The benefits are…
Medically approved methods of training
Achieving physical fitness as well as mental and physical awareness
Self defence
The traditional taekwondo avoids short courses of self defence offered by other organisations as this gives a false sense of confidence